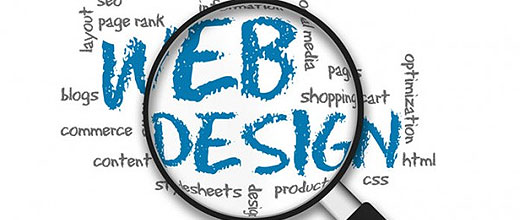 Web designer:
A web designer is a person that designs the website from scratch to an end, by considering all the major requirements and need of the client. All the major requirements of the site like information/requirement gathering, designing, coding, testing and even maintenance of the website after its launch, is done by web designer. A good website designing is the one which satisfies all requirements of the client with no errors.
A web designer should possess some good personal as well as technical web designing skills. These skills are necessary to become an effective Web Designer. Those skills are briefly described below.
Personal Skills:
• Logical thinker:
To be strong at the technical side, it is necessary to have a good mental stamina in order to work continuously on web designing projects. Web designing projects require work for many hours and for that purpose web designer should be mentally strong enough to work till the end of project. Web designing includes building e-commerce websites in which designers need to navigate through the previously developed web pages very often to make sure the logic applied to build website is working properly.
• Attention to detail:
Website designing includes repeated checking of websites, mostly at the programming stage where designers have to navigate the same page repeatedly to make sure everything is in order. For example, website design in Kent checks for his shopping cart module for transactions going in appropriate flow or not.
• Creativity:
Website designing requires creative and innovative designing abilities. Creativity involves logo designing, placing images on websites, crisp word idea generators.
• People skills:
Excellent interpersonal skills are required to be a good team player. To handle conflicts between management and clients or other colleagues at work you need to develop an effective interpersonal skills.
• Dealing with stress and maintaining deadlines:
Maintaining deadlines is very important factor for web designers to handover projects to their clients. All clients expect that their projects are being timely handed over to them and it doesn't cross deadlines. This may lead Website Designers to have unwanted stress, which is necessary to deal with it effectively.
Technical Skills:
• HTML:
The first and foremost technical skill that web designers need to have is a deep understanding on HTML (Hyper Text Markup Language). Web pages can be easily designed and created using various tags of HTML language. It is a simple and easy to learn language for the fresher web designers.
• CSS:
Second most important technical skill that a web designer should have is about CSS (Cascading Style Sheets). CSS contains the basic formatting of website like fonts, colors, texts, buttons, borders and many more things. It is used for uniform presentation of websites.
• JavaScript:
Third important technical skill that a website designer should know about is JavaScript. JavaScript is a scripting language used with association with HTML. JavaScript makes website more interactive and dynamic by using its various tools. JavaScript is used by embedding it within HTML codes.