Two weeks back I came up with a post showcasing logos of all the capable cities bidding for 2016 Olympics "2016 Summer Olympic Logos – May the best logo win!!". However, this Friday decision was taken and Rio de Janeiro was opted as the host city for 2016 Olympics among strong contestants like Madrid and Chicago. With this announcement, Rio de Janeiro has won the title of being the first South American city to host the Olympic Games. Well, this time, the treat is double for Brazil globally…It will host the 2014 World Cup and 2016 Olympics, two of the greatest events in the world of sport.
The Brazilian president Luis Inacio "Lula" da Silva, said some historical words while making a vain attempt of stopping his tears:
"It's a dream that we are dreaming for several years," the president said. "We worked hard to make it to this point and it's the greatest sensation ever to see the success of the project Rio 2016, if I die tomorrow, I'll certainly die satisfied."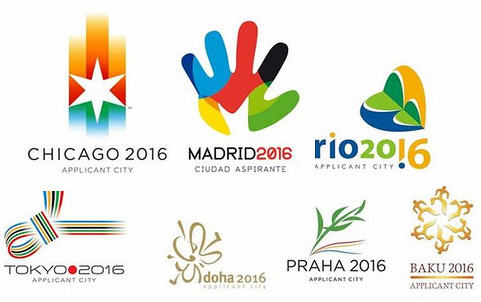 The selection of Rio over strong contenders like Chicago and Madrid, was not an easy task for the International Olympic Committee (IOC). US President Barack Obama had flown to Denmark on Friday morning to join his wife, Michelle and for the first time a current US president addressed the IOC in an attempt to win the Games. However, Chicago's early elimination with only 18 of the 94 votes in the first round poll of IOC delegates, was quiet surprising. The second city to be eliminated of the polling was Tokyo with 20 votes, leaving the competition between Madrid and Rio de Janeiro. The final ballot saw Rio win by a comprehensive margin of 66 votes to 32.
Logo of the host city of Olympics 2016:
Ever since, Rio was among the list of shortlisted cities of 2016 Summer Olympics, critiques have appreciated this simple but impressive symbol. The logo was revealed in 2007, during the Brazil's Olympic Award ceremony chose the Sugarloaf Mountain (

Portuguese

:

Pão de Açucar

), a prominent heart shaped landmark of the city, as their symbol.

Sharing my views over the "Rio Logo" I would agree that applied colors brilliantly combine the beauty of Rio with Olympics thrill.
With a heart shaped logo, they have succeeded in delivering the international feel of Olympics.
Your Turn to Talk:
After providing all the facts and features of 2016 Olympics, I want to give you all a chance to share your views over this international verdict. Do you think right decision has been taken or any other contestant city was a better choice than Rio? Don't miss to analyze the logo closely and comment to tell if it is good enough to be remembered as "winning logo for 2016 Olympics.