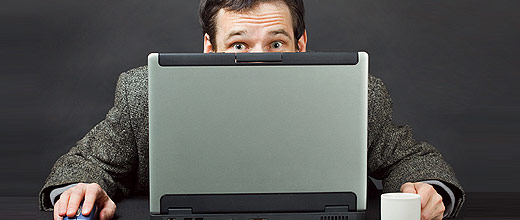 For graphic designers, especially ones who are freelancing or consulting, there are certain clients that aren't good to run across. Certainly, designers have bad habits on their own that can make clients want to disappear and never return. But we're not talking about them right now. We're talking about worst case scenario clients that can cause designers to lose their minds. 
1. Clingy Sue/Stu
This type of client is the one who is always calling you, emailing you, and usually interrupting your work to speak to you. While this may have been a staple in the office environment, as a freelancer you have the flexibility to work when you want, not when they want. This is the micro-manager, the guy or gal that doesn't trust you to get work done if they aren't constantly checking up on you.
2. The No Payer
This is possibly the worst type, as this person doesn't pay you. You've done the work, showed them the sketches, and sent out a hundred invoices, but still there's no money for you in sight. These clients are tricky unless you have a signed contract; this is where freelancing sites are 50/50 sometimes.
3. Vaguely
This client is the one who doesn't know what they want. They want something, but don't know what that something is and they'll expect you to figure out what their minds are trying to tell them.
These are just some of the types of bad clients freelancing designers want to avoid, but if you're starting out in your graphic design business, how can you spot them?
Identifying Bad Clients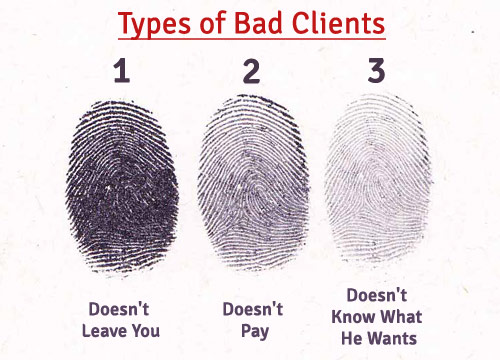 Many freelancers usually start at the same point - thanks to the Internet, there are sites devoted to helping freelancers find work and clients, but as mentioned, some of these sites can get themselves scammed too. If you apply for a project, list your price, and then get a note back from a client to lower your price, you should probably avoid them. Certainly, as a new freelancing designer, you want to get work and not be picky, but many freelancers fall into the trap of doing work without any pay.
Speaking of pay, check out what other designers might be charging and go somewhere in the middle. When a potential client bulks, move on, politely telling them that is a fair amount and if they do not like it, they are free to move to another designer. You can do searches to see what the national average is for designers in your state or country; the Bureau of Labor Statistics in the United States, for instance, keeps overviews of how certain positions rate for every year.
It might behoove you to consult a financial advisor as well. You're essentially running your own business and could use input from a licensed professional on matters of creating a company and writing off your work-related expenditures. Keep your purchases consolidated on one card so that it will be easier for you to itemize them come tax season. There's no reason to be paying out of pocket for business expenses.