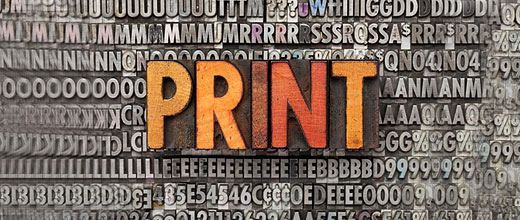 Your next project is almost ready to go, you have a great looking design and a suite of promotional materials that you have spent days, weeks or even months putting together - all that's left to do is print and distribute them. All your creative energy has been spent on making sure they are going to look exactly how you want and enhance your business and brand further, your job here is done. Or is it?
It's easy to have the 'printing is just printing' mentality, but understanding the difference between digital printing and offset printing can save your company's time, money and provide the assurance that your hard work and design planning will not go to waste. Let's look at the benefits of both printing methods and understand how to pick one that will help develop your project and brand.
• High Volume Printing
Offset printing is a more commercial option and is a better choice for projects or campaigns when larger quantities are required such as brochures, newspapers and stationary.This type of printing technology uses plates made from aluminium to transfer an image onto multiple pieces of paper, because it doesn't transfer the ink directly onto the paper, therefore, it's known as 'offset printing'.
Whilst offset printing is a fantastic way to produce professional and clean looking print projects offering greater detail, the highest printing quality and a variety of custom finishes and paper types, many companies do not need large runs of 500 or more and therefore should consider digital printing as an alternative.
Because of printing in such a high volume bulk, offset printing has its financial benefits which can be availed only with massive orders. The more you print, the cheaper its price gets per piece.
• Lower Quantities
Digital printing doesn't use plates the way offset does and uses, instead, options like toner and liquid ink. This printing method works by assembling each image from a complex set of formulas and captures them with a matrix of dots called pixels, creating a digitising process.
Because this technology offers a built in multicolour registration system and has minimal set up, it eliminates the time-consuming processes offset printing can use, offering a much quicker turnaround time.
When lower quantities are needed (even as low as one single print), digital printing shines through and provides a more cost effective result. For jobs where the materials need a unique name, code or address, digital is the only way to go as offset printing cannot accommodate this tailored need.
Digital technology offers the benefit of printing only the amount you need, when you need it, rather than having to save your print runs for when there is adequate numbers. This makes it the perfect option for companies that require constant changes or updates to promotional material and leaves room for less wastage.
• A New Printing Era
With digital printing's improved technology, the quality and choice has been increasingly acceptable for more people, adding significant value to printing projects and resulting in a paradigm shift in the printing world; making the impossible, possible.
Whilst both offer useful printing methods and produce a great range of benefits depending on your project's requirements, digital offers the exact solution the industry now couldn't do without.
It is vital for your project that the company's vision is seen right through to the end, and this entails understanding which printing method can serve its purpose best, meeting all your project's needs and a high level of quality that gives you a great looking and professionally printed product that profiles your business in the perfect light.