No matter how old I get my affinity with the cartoon world never dies. And I am sure almost every one of you share the same feelings. After all who wants to say they've grown "too old" for cartoons, isn't it???

As a graphics designer and a cartoon enthusiast, I ventured in the quest for finding out techniques for creating cartoons. I found that by simply using design tools (Photoshop, illustrator etc) we can make just about any cartoon character there is. I found out these amazing tutorials that amply explain the step-by-step procedure for making some of the greatest cartoons! After all with big block-busters like "Disney Pixar's Up", "Wall-E" and "Cloudy with a chance of meatballs", there has been an overwhelming demand for graphics designers who can make interesting cartoon characters.
Now I am going to share these remarkable tutorials (properly accredited). So here's a chance of polishing your graphic design skills in the field of cartoons and animations

1. Drawing Homer Simpson
| | |
| --- | --- |
|   | This tutorial will teach you how to draw the Simpson's favorite character, Homer Simpson, from grounds up. Our drawing project will involve drawing the outline of the character, applying strokes to these outlines, and then using various selection tools to color Homer's skin and clothing. We will then finish it off by adding shadows and highlights to make it look similar to the image below. |
|   |   |
|   | Read more… |
2. Drawing Nibbler from Futurama in photoshop:
| | |
| --- | --- |
|   | This should be a fun drawing tutorial where you can find out how to go about drawing Nibbler, Leela's cute pet in the cartoon Futurama. |
|   |   |
|   | Read more… |
3. Creating Bart Simpson Vector Character in Illustrator
| | |
| --- | --- |
|   | Bart Simpson, the meddling and yet clever young boy in "The Simpsons" always loves to get into trouble. This mischievous character was one of my favourite when I used to watch Simpsons (which unfortunately halted after 20 seasons L ). But I got a chance to re-live the memories by getting to know how to draw my own Bart Simpson. This tutorial has adequately provided |
|   |   |
|   | Read more… |
4. How to Draw Sorcerer Mickey
| | |
| --- | --- |
|   | The cartoon character that is known as the brain-child of Walt Disney, "Mickey Mouse" is the ever living cartoon character that people of all ages enjoy watching. Remember the cartoon in which Mickey became a sorcerer?? Let's learn how to make that. |
|   |   |
|   | Read more… |
5. How to Draw Lion King Characters Using Photoshop
| | |
| --- | --- |
|   | The cute and heart breaking story of lion-king always inspires me. Love for its cute cartoon characters made me want to learn how to make them. This tutorial has shown just exactly how to make these characters in nice and easy steps. |
|   |   |
|   | Read more… |
6. Sonic Battle Style CG
| | |
| --- | --- |
|   | This advanced tutorial explains one way of creating cartoon characters in Photoshop using nothing but the default tools, lots of patience, and a few gallons of coffee. Explained in detail from initial scanning to final detailing, this 5 page tutorial can make a master cartoonist out of anyone! |
|   |   |
|   | Read more… |
In the closing stages, I would like to share a very exhilarating yet astonishingly created cartoon image. I know it may not be a famous cartoon, but it certainly gave me an inspiration of creating my own cartoon characters.
Create a Scary Cartoon Image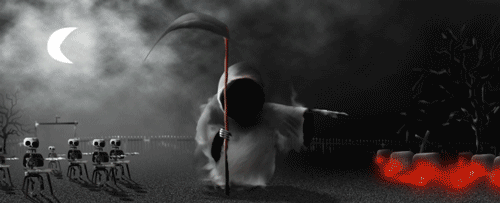 This photo reminds me of "The Grim Reaper":-D Anyways, follow the link for this scary and creepy photo and learn how to make it yourself
I would appreciate it if you would share some of your own personal collections of graphic designs with us