Roughly a year ago on 29th September 2010, Graphic Design Blog launched its very own Graphic Design Forum. In this brief yet adventurous time, our forum has achieved a milestone of 5000 active members. This signifies the level of usefulness and entertainment that we provide to our readers and members on the forum.
Our 5000 members include professionals like graphic designers, web designers, logo designers and other graphic design fanatics and fun lovers. Sighting the immense response from our esteemed visitors, we decided to launch a new "Infographics section", where you can learn how to make interesting infographics by watching, reviewing and submitting your own creations.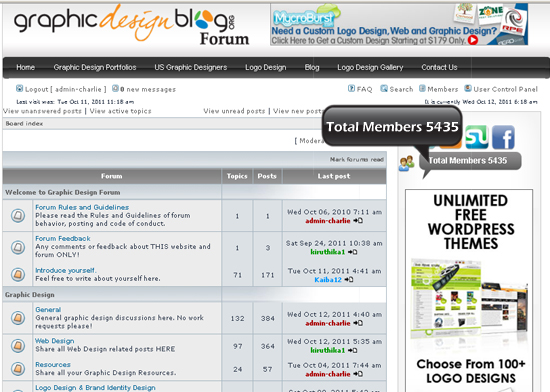 • Interesting Discussions:
We have a lot of healthy discussions going on at Graphic Design Forum that you would enjoy participating in. The most recent topic on Steve Jobs (Late) will let you know amazing and unknown facts about this Apple mastermind. Although I did an obituary post on Steve Jobs revealing some unknown facts and pictures, but I have been learning even more through contributions of members on Graphic Design Forum.
Here, for my readers, who are really inspired by Steve Jobs and his amazing achievements, should check this quick video on YouTube channel of Graphic Design Blog. I created it to display the not-much-seen aspects of Steves life.
• Useful Tips and Tricks:
Over at the learning sections, you will greatly benefit from all the tips and tricks submitted on the forum. If you have some questions about graphic design, then you can find the answers on our forum. There are a lot of popular tutorial in our Tutorial section that will help you in your graphic designing.
For us, this is not the end of the road as we strive on building an even larger forum where everyone can hold healthy and useful discussions. Our next target would be to achieve 10,000 members, so come along guys and join us.