Today, I announce the launch of a new logo design contest site but hopefully you won't tag me a spec work supporter by the end of the post. There are two sides to every coin and I believe this subject to be a matter of perspective. If you are a well-established designer with number of projects lined up, then you surely don't need to participate in such contests.
However, considering the striving graphic designers, crowd sourcing sites are a blessing for them. They get a platform to promote their work, improve their skills, communicate with peers, and win new clients. Cutting the long story short:
Main Advantages of Contest Sites:
| | |
| --- | --- |
| •   | It gives confidence and experience to the new talented graphic designers to move further into the design world. |
|   |   |
| •   | Although, many designers leave from such sites without earning a dime but talented designers looking for the right exposure, can get a terrific start here. |
|   |   |
| •   | It is a bitter fact that many big names of design industry are not capable designers but make good money as they have their name out in the market. Doing small projects or winning contests is all part of marketing yourself. |
Main Disadvantages of Contest Sites:
| | |
| --- | --- |
| •   | Big designers, who are earning their living in design field, get insecure because of young designers doing work much cheaper. |
|   |   |
| •   | These types of sites damage the reputation of career designers as they already have strong clients on list.  |
|   |   |
| •   | Client get to see all the entries for their project and instead of rewarding a designer, they do it themselves. |
Anyhow, getting back to the topic….couple of months back, I mentioned a "New Warehouse for Graphic Designers" which was in beta version but now it is LIVE, finally. Yes….MycroBurst.com brings a genuine platform for designers to introduce their talent in the world of graphic design.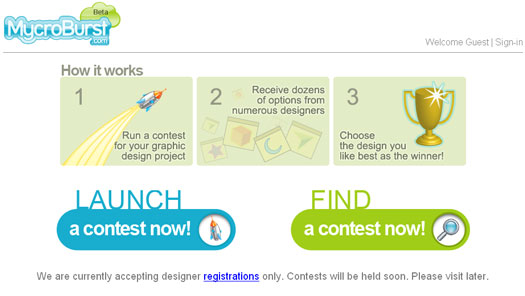 Launch or Submit: MycroBurst.com allows a client to come and set up a "contest" where designers can drop their designs and enter the contest. Presently, 2 contests are running live accepting entries from graphic designers all over the world. The good part is that the contest holders' offer guaranteed prize money within the defined time of the contest.
Your turn to talk:
For my readers, who strongly believe crowd sourcing to be a blemish on the design community, I want to remind them of designers in remote areas—even third world countries, where they have very few means to support their families. Always remember, "Me and My Work" should not be our tagline …it's time to think for others too

Still, I am open for all kind of responses.