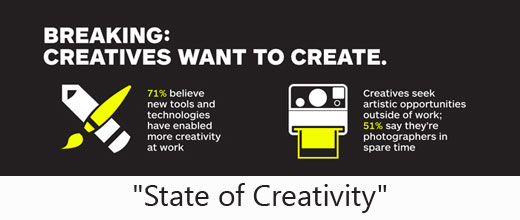 Surprisingly, as the demand and sophistication of resources escalates, creativity is taking a severe dip in a faculty; none other than 'creativity' itself. What if we told you that 60% designers confess of having no time to work on their "great ideas"?
A KRK research for iStock reveals the poor and 'stagnant' condition of inspiration and imagination in creative fields. Hardly 23% people spend less than two hours in a day doing "creative" work.
"Our research raises questions around the state of creativity today in industries vital to the global economy," said Ellen Desmarais, general manager at iStock. "When you consider that global revenues last year in the advertising industry alone were nearly half a trillion dollars, declining creativity is cause for alarm and should prompt an industry-wide discussion. The bottom line – we need to free the creative."
• State of Modern Creativity – the infographic!
What KRK did was to conduct a survey of some 400 creatives all over the US and UK. Their professions ranged from fashion design to art direction, among which 63% complained of not having the time required for "creative reflection and inspiration" - 70% simply asked for more "creative time."
Find out the rest of the details in this interesting inforgraphic: