Each day, more and more companies are registering themselves on Facebook to increase their online market presence. This is because Facebook is the most used social media site in the world (Ranked 2nd by Alexa in their global website rankings).
Did You Know?
-› 43% of the Facebook users Like, or are fans of, at least one brand on Facebook.
-› The average U.S. Facebook user "Likes" an average of 14 companies/brands.
-› 40% users Like a company's page to receive discounts and promotions.
-› 33% users Like a company's page to get updates on future products.
All these above listed statistics highlight the importance of social media analytics for your business. Even more critical is to keep track of your competitor's progress on Facebook. Unfortunately, most businesses cannot afford to pay analytic sites to find out these statistics.
So…want to know your competitor's Facebook analytics for FREE? Yes that's right! SocialDon.com is a revolutionary site that provides Facebook analytics of your competitor Facebook FanPages for FREE. Not only that, it also lets you compare your company's FanPage statistics with your rivals without paying a penny for it.
About SocialDon.com:
SocialDon.com is an innovative web portal that provides comprehensive and accurate Social Media Analytics for FREE. It aims to become the first choice for Social Media solutions and Facebook Analytics is just one of its many tools. In the near future, SocialDon will be providing more FREE analytics tools for social sites like Twitter, LinkedIn etc.
How SocialDon is BETTER from Others:
You must be wondering since there are many other sites that provide Social Media Analytics, how is SocialDon better from them?
» It's all FREE. No trials, No Demos and No Payments.
» It saves your time. NO registration required.
» It finds out the most active user of a FanPage.
» It is your One-Stop Solution for Social Media Monitoring. No need to visit three different analytic sites and paying for three different statistics.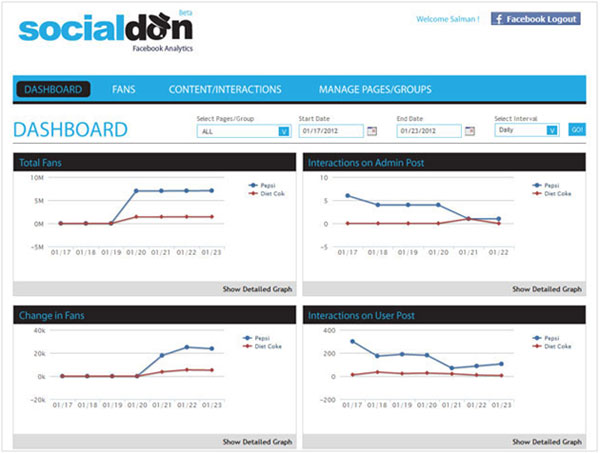 How it Works – Easy as 1, 2, 3:
SocialDon.com presents an extremely easy way of exploring and analyzing social media statistics. The site is highly user-friendly and convenient. All you need to do is:
» Login with your Facebook Account to access Dashboard.
» Go to "Manage Pages/Groups".
» Add/Remove pages by using the New Page and Delete Page options.
»Create groups using the options provided.
» Visit the Dashboard and adjust the Selection Bar
» Now sit back and have a cup of coffee as the Don does the work for you in providing comprehensive Facebook Analytics.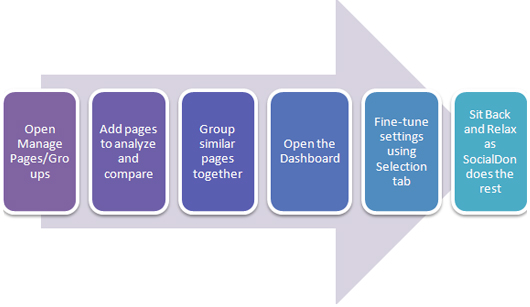 Features – Know Your Brand Value:
For all the brands and companies who are active on the social network, SocialDon lets you analyze all interactions and activities on your Facebook fan page. You can explore the value of each page and compare it with the performance of your competitors' pages.
Of the numerous features that SocialDon provides, here are some of the most valuable ones:

Count the total number of fans who 'like' your FanPage.


Finds out change in Likes i.e. difference of the Likes compared to the previous date point.


Calculates the number of likes and comments received on each post.


Assess and study consumer trends and behavioral patterns over a period of time.


Content/Interactions page provides you all information related to interactions and content posts on your page. This helps you in building social media strategies.


Monitor the growth rate of fans on your page or the competitor's page.


Find out the most active users on your page and conduct targeted marketing.


Allows you to group your competitor pages and compare them collectively.


The Selection Bar lets you customize the interval of data you want to be analyzed (daily, weekly or monthly).


Discover the Total People talking about your brand and the change in talkability.


Arrange and save your analyzed data into groups for easy access and future evaluation.
Therefore, the next time you are building social media strategies for your company, simply visit SocialDon.com and gauge your Facebook Analytics in comparison to your competitors for FREE. Also guys…this is just the beginning of SocialDon….There is lot more coming your way to help your business flourish through social media in every possible way.