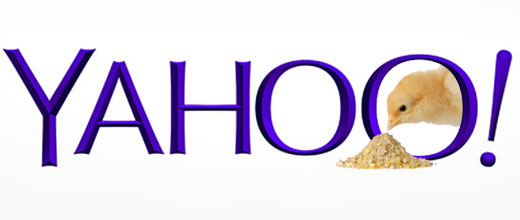 They call themselves a multi-billion dollar company and yet they don't have the guts to follow through with a bold logo redesign. After 18 long years of the same tired logo, people anticipated something huge and dramatic from Yahoo. Instead, they witnessed a fruitless process, which resulted in one of the world's lamest logos.
After almost two decades, they boldly decided to experiment with their corporate logo and then wimped out in the end. What started out as a theatrical and exciting redesign process, turned out to be nothing but a complete waste of time and money.
In all honesty and fairness, I fail to understand what made Yahoo! chicken out on coming up with a bold logo redesign. Their '30 days of change' initiative was going quite well until the end, when they suddenly decided to play it safe with a completely stagnant redesign. At this point, they might be better off changing their company name to "Sigh," since it would be a more appropriate expression than their current exclamation of excitement.
• Yahoo Logo Redesign Sucks!
From a design perspective, there's really no discipline or skill shown in the logo redesign. From a business perspective, the new logo is nowhere near "Whimsical," as it was described by Marissa Mayer in a press release. It is the polar opposite – a completely conservative and outdated version of an already out-of-touch logo. At this point, the company would be better off changing their name to "Sigh," since it would be a more appropriate expression than their current exclamation of excitement.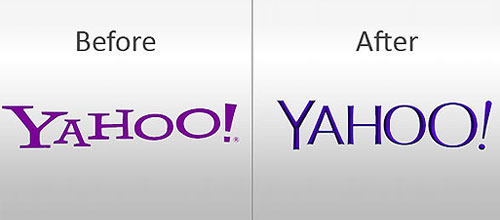 • Too coward to take any risks
It's no secret that Yahoo! has been lagging behind for years and basically choking on Google's fumes. No one does Yahoo! to look for something; they Google it. Much like their fear to grow and change in the past, this logo has proven to the world that a leopard can't change its spots, and that Yahoo! will never be Google.
Additionally, the company reported that its overall revenue dropped drastically in the 2nd quarter of 2013 as compared to the previous year. Currently, it's not very clear what 'Yahoo!' means or what the company even does.
Maybe this is why Yahoo decided not to take any further risk with its brand identity and ended up with a half-hearted redesign. Instead, the sad-looking logo has added insult to injury for the company. People all over the internet want answers, and Yahoo! has yet to deliver.
• There's always crowdsourcing…
Perhaps, not all is lost for Yahoo!. There is still time to turn this sad ordeal around. The company can opt to crowdsource the logo design and gather some new creative ideas from a large design community. After all, if Marissa Mayer (CEO of Yahoo!) can crowdsource a name for her baby (Macallister), then why can't she do the same for her $10 billion company? If she was bold enough to let the world name her baby, then letting a huge network of designers have a go at the new design shouldn't be such a big deal.