The moment I saw the coke cans, I was in love with them. Pepsi cans deliver a sophisticated appeal but stilll don't look as good as the Coca-Cola cans.
Which of these cans make you crave for the drink - Pepsi or Coca-Cola?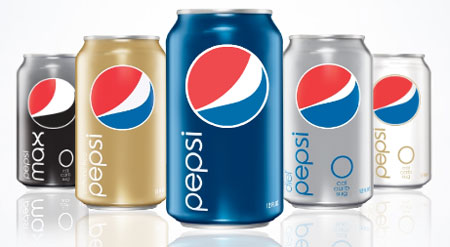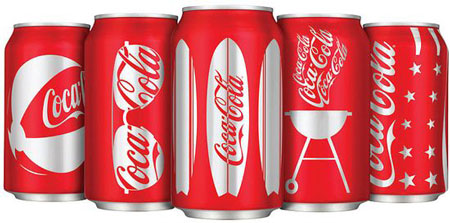 Two weeks back, while digging some creative posts on Digg.com, I saw this JPG with almost 6500 diggs. Well, my curiosity was answered with a wrong demo chart which showcased the transformation of Pepsi and Coca-Cola logos ever since they came into existence.
The comparison diagram shows the logo evolution of these top soft drink brands from late nineteenth century to the current face of the 2000s. However, it seems as if only Pepsi Logo has evolved in all these years as the image witnesses the existence of script style Coca Cola Logo since 1985. Isn't it really stupid to claim today's Coca-Cola logo to be same since 1885 when such advance tools did not exist only?
Although Coca-Cola has been adding very subtle and minute changes to its logo design over the years but can't be ignored in any way. Just check the blunder in the below given chart displaying the evolution of these top logos
Anyhow, last week a well-known logo design blog took the responsibility of coming up with correct research.
First appearance of

Coca-Cola Logo

: The above mentioned post reveals that Coca Cola's logo first of all appeared in the Atlanta Journal Constitution in 1886 as both a slab serif and chunky sans serif and then in mid-1887, Frank Robinson, Coca-Cola's bookkeeper, drew the first traces of the Spenserian script logo, which we all recognize so well.
First appearance of

Pepsi Logo

: As we all see, over the years the Pepsi logo has changed dramatically from typographic logo into a sophisticated symbol. With the Pepsi "crown" appearing in the 1940s along with the addition of the colors blue and white to commemorate the war efforts of the U.S. In the 60's the type changed from a script font to the now familiar bold sans serif.

Let's have a look at the new and correct version of these world famous logos evolutions.

Now, when I am done with the showcasing of these famous logos evolution, something is bugging my mind which I would like to share with you all. If you notice Pepsi has been undergoing drastic changes in all these times while Coca-Cola logo has been ruling soft drink industry with its minimal redesigning.
Do you think it is important for every brand to keep on getting major redesigns for their logos to achieve stable success and corporate identity?
Before you give your answers, I would like you to consider this chart where Coca-Cola branding has been consistent over the years (trying to create history) while Pepsi has been releasing drastic changes under the "Choice of a New Generation" philosophy (which justifies radical change and periodic reinvention).
Despite your reply, I would like to add my opinion here…the present Pepsi Logo is a real disaster while the flawless beauty of Coca-Cola has not lost its place in so many years. The latest version of Pepsi Logo appears to be a distorted image of a smiling fat man. I would also like to add here: "Everything that coca-cola succeeded in its history, Pepsi failed." Therefore, if logo redesigns can be so ridiculous then its better companies leave their logos unchanged…do you agree?