One thing that has been always bothering me and I am sure many of you will relate to it…attaining perfection in everything. I'm certain that many graphic designers face the same dilemma of constantly striving for perfection. Although at the same time, we all know that perfection is something that can be never achieved. Then why is it so that we go crazy trying to make our things "perfect".
This thought of being perfect and never able to reach it makes us really upset and pessimistic. Therefore, today I felt like discussing it here with all my readers to know if you all are caught in the same tight spot.
Let me also clarify that I certainly don't intend to demoralize you guys, on the contrary, I wish to help you find perfection within yourself. The thing about human ambition is that it's so powerful and passionate, that no matter how high we reach we are never satisfied. Here, I would like to quote a saying that I also featured in my design quotes post: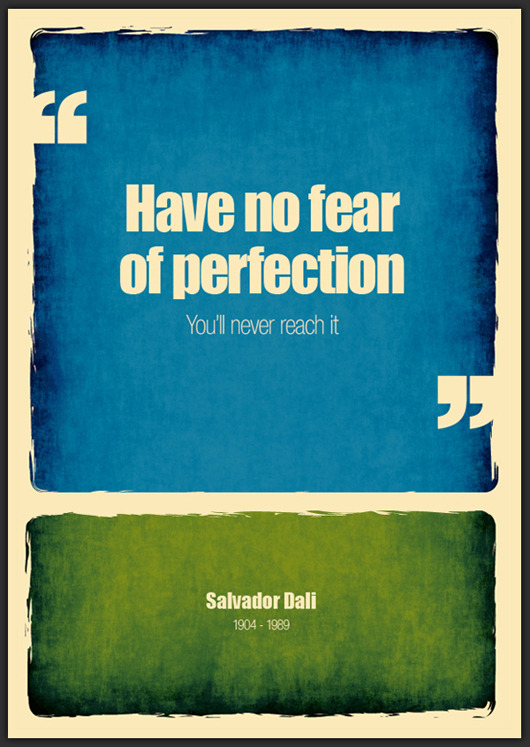 Satisfaction is the key to Perfection?
Although, graphic designers claim to be always striving for perfection because they are not satisfied with what they create. But in reality, it is the clients that they try to satisfy and not their ownselves. There are countless occasions when you are confident that you've made a perfect design, but then your client comes up saying it's not what he had in mind. So, finally you slaughter your creativity and start making something which could satisfy your client so you get your committed bucks.
Here arises the question…What perfection means for you? Is it being famous? Is it being rich? Is it what others want you to be? Or is it just trying to be a man of value?
 "Try not to become a man of success, but rather try to become a man of value."

Albert Einstein
In short, everything that satisfies your soul and makes you feel happy is a "perfect artwork" Always remember "Perfect is who you are, not who someone else says you should be." So your work should also reflect your personality and creative skills, not only the instructions you have been following.
Satisfied people are better Graphic Designers – Learn to be happy!!
Research and stats have proved that satisfied people are better graphic designers. Here are a few suggestions and encouraging thoughts that you can ponder on. I hope they will help you achieve more self-satisfaction and contentment:
• The first thing you need to learn is to stop running after perfection. Try to satisfy yourself first and perfection will follow you.
• Never feel dissatisfied with yourself or what you do in life. Remember, no one governs your life better than you.
• Stop wasting your time and energy wanting to change and trying to change. You are great the way you are.
• Stop idolizing others, trying to be like them. The way you are is what makes you distinct and unique.
• Stop focusing on competing with others, trying to beat them. Make your competition irrelevant and you will always win.
• It takes 37 muscles to frown and 22 muscles to smile…so Smile and play your part in conserving energy.
• Instead of trying to improve yourself, you can spend your time helping others.
• No matter how many projects/orders you work on , you're incomplete without self-realization. Always satisfy yourself before satisfying others.
• Stop being a workaholic and start being a smug

In the end my message to all the hard-working graphic designers is…Be happy with whatever you do and don't worry about what the world thinks about you or your work. And for now also, remove this frown from your face and seek satisfaction in yourself, to be a perfect designer.