We all are familiar with the terms print media, electronic media and online media. We have even heard of social media as well. But ever heard of democratic media? This is one of the most evolving concepts affecting the fate of many organizations and famous brands alike. Since graphic designers play a vital role in building a brand identity, I believe they should be well apprised of the terminology and its impact on the corporate world.
Democratic Media - What is it?
The exact definition of "democratic media" provided by Wikipedia says:
 "Democratic Media is the concept of organizing media along democratic lines rather than strictly commercial and/or ideological lines."

However, for my better understanding, I have concieved it somewhat like this:

"It is democratic media, when ordinary citizens have the freedom and access to express their views on any piece of information released or published on internet. Unlike the conventional media that runs on commercial purposes and with an agenda of making profits, the democratic media holds that that information is organized and controlled by ordinary citizens."

Nevertheless, considering the immensity of this term, I would like to relate this topic specifically with "brands" for my today's post. This will surely make it more apprehensible for my readers and me.
Democratic Media – Power of people:
The biggest proponent of democratic media is the rise of social media sites and blogs where people are open to share their views and opinions. The chief reason for the level of influence is the ease of access to these kinds of media platforms. Almost every and anyone can join the discussions and openly share their opinions and judgments. Following are a few noteworthy influences of democratic media on the corporate world:

• It increases consumerism and protects the rights of consumers.

• Provides the public with freedom of speech and expression of opinions.

• It shrinks the power of famous brands to impose their will on consumers.

• Promotes fair, independent and accountable information to the public.

• Limits the creative skills and approach of Graphic Designers.
Democratic Media - Shrinking the Power of Brands:
• Gap fiasco - The fallout:

Gap fiasco is the best example to explain the power of Democratic Media. Gap had to revert back to its old logo within days of launching its logo redesign in 2010. Have you thought who forced the famous brand to take back its decision? Yes, it was the common people and regular Gap customers who created a chaos on internet by posting lengthy comments on blogs and social media platforms telling how much they hated the redesign. While the intentions of redesigning the logo were substantially optimistic, it was severely criticized over the online and social media platforms. It is things like these raise the question…Is rebranding a mistake?
• BP Logo Parody:
Then there is the case of Oil Giant British Petroleum (BP). After the massive oil spill last year, BP was immensely condemned by people on the internet. The censure went to the extent of ridiculing BP logo. Social activist group Greenpeace UK attempted to tarnish the corporate image of BP by setting up a logo design contest to ridicule their logo. One cannot even imagine the amount of damage this has inflicted on BP's branding. Only those who are aware of the cost of rebranding can understand it. This raises yet another question…Does public power reign supreme over the power of brand?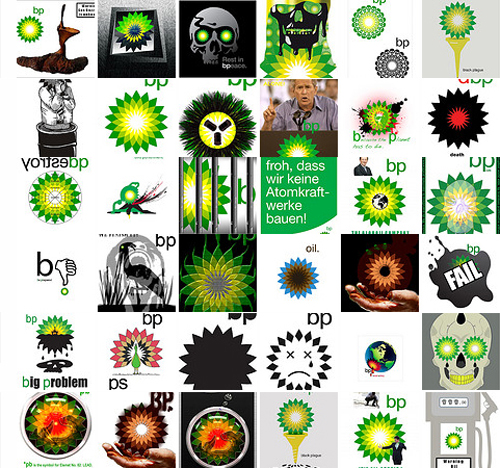 The increased influence of the general public as a major stakeholder in corporations prove that graphic designers are quiet threatened and alarmed of customer reactions while carrying out any corporate venture. Graphic designers now seem to realise the impact of democratic media on the well being of any business or enterprise.
Your Say:
Before I conclude my post I would like to know your thoughts on one of the points I mentioned above:
"Democratic Media has limited the creative skills and approach of the Graphic Designers"

Don't you think graphic designers have become very much obliged to consumers likes and dislikes? Ignoring their imaginative ideas and theories, they are creating those concepts, which the brand customers would like to see. Doesn't this leave the graphic designers in a strange dilemma?